Stopping customers from buying unlimited energy is illegal — FCCPC to DisCos
The Federal Competition and Consumer Protection Commission (FCCPC) have said that not allowing customers to vend as much as they want is illegal.
In its statement, the FCCPC said that it has also told Ikeja DisCo and other distribution companies that restricting or constricting supply or vending in a manner that prevents or impedes purchases or consumption at consumer discretion in anticipation of any changes in prevailing fiscal regimes constitutes an infringement of the Federal Competition and Consumer Protection Act, 2018 (FCCPA) and is impermissibly oppressive.
According to a recent statement signed by Babatunde Irukera, the CEO of the FCCPC, the Commission noted: "Sections 17(g), (x) and 125 of the FCCPA prohibit unconscionable, obnoxious, unfair, unscrupulous business practices, as well as unfair tactics in the course of legitimate business.
"The Commission will enforce the law to the fullest extent of same, especially when the conduct is to deny citizens access to an essential utility except under operation of law."
In the statement, which was shared on Twitter, the FCCPC said that it had received numerous complaints from electricity consumers within the IKEDC franchise area, regarding vending constraints.
These complaints were specifically related to the customers' inability to purchase electricity tokens or units for their prepaid meters, which persisted over an extended period of time.
The FCCPC has been actively engaged with the Nigerian Electricity Regulatory Commission (NERC) and IKEDC to address these complaints and resolve any associated difficulties with vending or purchasing tokens.
A part of the statement read thus: "The Commission understands that the difficulties arose in part because the past days have been public holidays, and vending agents were inundated with significant purchases in excess of usual vending and purchase.
"It is a result of consumers seeking to make larger than usual purchases to pre-empt any perceived change in tariffs purportedly on July 1, 2023, as has been rumoured, perceived or represented publicly.
"The situation is now under control and IKEDC presented to the Commission that any vending constraints are unassociated with any presumptive changes in tariff. IKEDC has committed to continuing to conduct its business, including vending tokens in accordance with prevailing law and tariff of the time of vending."
FG committed to implementing CNG Keke policy – NOA
The Director-General of National Orientation Agency (NOA), Malam Lanre Isa-Onilu, on Friday restated the Federal Government's commitment to implementing Compressed Natural Gas (CNG) Keke (tricycle) policy.
Isa-Onilu, who said this on Friday at a news conference in Abuja, said that the policy was part of government's efforts to alleviate the current economic hardship facing the citizens.
Compressed Natural Gas (CNG) is a feasible gaseous fuel that is relatively very cheap, environmentally friendly, safe to handle and has abundant available energy.
The director-general added that the policy also geared towards cutting transportation cost, to ameliorate the suffering of citizens.
According to him, the CNG will offer opportunity to local farmers to move their crops at affordable cost from their farms to the market.
"CNG will reduce fuel dependency and scarcity within the country by a wide margin, as well as strengthen uniformity of national transit system.
"Government will deploy 10,000 CNG filling stations across the country, while private marketers are also in the process of adding CNG points to their business," NOA boss said.
According to him, the Federal Government is committed in providing Nigerians with affordable energy options. The use of CNG stands as a testament to this commitment.
"CNG offers cost savings for consumers, businesses, and government operations in ensuring that energy remains accessible to all.
"As part of our environmental stewardship, the adoption of CNG aligns with the government's goal to create a cleaner and healthier nation.
"By choosing CNG over traditional petrol, we reduce harmful emissions such as carbon dioxide (CO2) nitrogen oxides (NOx) and particulate matter, in contributing to improve air quality and smaller carbon footprint."
The director-general said that government recognised the importance of utilising domestic resources to enhance energy security, by the promotion of the use of CNG, sourced locally.
This, he added, would reduce dependence on imported petroleum products, as well as supporting national economic resilience.
He restated the agency's commitment in leveraging on the cost cutting benefits of this CNG Keke, to ensure that its community orientation mobilisation officers reach out to communities with government messages.
According to him, the agency has partnered with the Ecomead company to enlighten Nigerians on the Compressed Natural Gas(CNG) Keke tricycle policy.
Also speaking, Chief Executive Officer, Ecomead Company, Mr Kayode Zubaim, commended NOA for embarking on government's CNG campaign programme to ensure Nigerians were updated with the policy.
According to him, the provision of CNG is apt and will help to cushion the effect of fuel subsidy removal on Nigerians.
He added that the decision of President Bola Tinubu made Ecomead to wear a thinking cap, to contribute its quarter to the nation's development.
"After carrying out series of research, we are able to come up with a brand that will use both CNG and patrol.
"But the truth is that it is manufactured to use CNG with the capacity of five kilogramme that rider can manage for minimum of one week.
"CNG is environmental friendly and such will help to reduce Nigerians problems, especially those in the rural communities and communities transport system.
"With NOA partnering with us, we can get across to all part of the country in making sure Nigerians know about CNG Keke ," he said.
He added that the issue of transportation would drastically reduce with the intervention of CNG when Nigerians made use to the product .
Mr Shamrat Sharna, Regional Manager, Simba TVS, said CNG looked new to Nigeria, but the product has been used all over in India.
FCTA uncovers illegal refinery in Abuja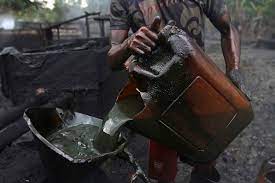 The Federal Capital Territory Administration (FCTA) has discovered the presence of an illegal oil refining warehouse in Mabushi, Abuja.
The Director, Department of Development Control, Mukhtar Galadima, who spoke to journalists said that the illegal refining site was uncovered during the continuation of the city cleaning exercise.
Galadima disclosed that about three to four plots of land designated for commercial purposes have been converted to an area where oil and diesel are being adulterated and circulated to other parts of the city.
He said that the city sanitation task force will look into the provision of the law and make necessary recommendations to the FCT Administration for further actions on the plots used for the activity.
He added that there was no arrest, but the items used in carrying out the illegal refining have been impounded.
"During the continuation of our city sanitation exercise in Mabushi opposite Mobile filling station on Ahmadu way, we discovered an illegal refining site where oil and diesel are being adulterated, we have done the needful by moving the items to Nigerian Security and Civil Defence Corps.
"From what we have seen so far, about three or four plots of land designated for commercial purposes have been converted to unapproved activities, which we believe the owners are fully aware of. There will be consequences. We are going to look at the provision of the law and make necessary recommendations to the FCT Administration," he said.
Gas production declines despite FG's N250bn intervention fund to 15 companies — Report
The Energy Institute report has revealed that the production of natural gas fell last year despite an N250 billion intervention fund provided to fifteen companies.
According to the industry report in partnership with KPMG, Nigeria's natural gas production dropped by 4 billion cubic feet meters between 2021 and 2022.
The country's gas production recorded at 39 billion cubic feet meters as of 2012 was on a steady growth and had grown to 49 billion cubic feet meters as of 2020, suddenly crashed 45 billion cubic meters in 2021, and then 40 billion cubic meters last year.
According to the report, "The development happened despite a N250 billion intervention fund by FG through the Central Bank of Nigeria, out of which N130 billion was doled out to 15 companies for the construction of Compressed Natural Gas conversion centres.
"The NGEP was introduced by the Federal Government to make the CNG the fuel of choice for transportation and the Liquefied Petroleum Gas, the fuel of choice for domestic cooking, captive power and small industrial complexes."
After the flag off of NGEP, the CBN also introduced the N250 billion intervention facility to help stimulate investment in the gas value chain as part of its efforts at stimulating finance to critical sectors of the economy.
The fifteen companies – Dangote Oil Refinery, Nipco Gas Ltd, Nipco Plc, Hyde Energy Ltd, Lee Engineering and Construction Company, Pinnacle Oil and Gas FZE, Transit Gas Ltd, Amalgamated Oil Company Nig Ltd, First Modular Gas Systems Ltd, NOVAGAS Ltd, Greenville Liquefied Natural Gas Company, AP LPG Limited, and MOB Integrated Services Limited, Delta State Government, and Gas Nexus Ltd that received a combined N130 billion, would on Thursday face the Senate Committee on gas chaired by Jarigbe Agom Jarigbe.
The summon letter by the Senate said, "The invited companies are required to appear with their progress reports, stating location or projects and the current status of the projects."