2022: Customs FOU Zone A, generates N13.9bn, intercepts 656,414 litres of PMS
By Seun Ibiyemi
Federal Operations Unit, Zone A, of the Nigeria Customs Service (NCS), on Thursday, said it intercepted 656,414 litres of Premium Motor Spirit (PMS), also known as petrol and others goods worth N13.9billon in the year 2020.
In a statement made available to Nigerian NewsDirect by the unit, the  Acting Customs Area Controller (CAC), Hussein Ejibunu, the unit said, "the year 2022 for Federal Operations Unit Zone A, was a period of sustained anti-smuggling onslaught, zero compromise for duty evasion and diligent facilitation of trade.
"The unit also prevented loss of government revenue as our assigned position of being a layer of check uncovered attempts at evading duties. We recovered the discovered shortfalls through issuance of demand notices (DN).
"We did all these at the expense of our lives placing national interest ahead of any narrow or personal gain. It is sad to note that some of our officers paid the supreme price last year when they got killed by smugglers. For us, they are the heroes of the anti-smuggling battle and they will never be forgotten."
Ejibunu said, "From January 1 to December 31 2022, we made a total seizure of smuggled items worth a duty paid value of thirteen billion, nine hundred and eight million, five hundred and seventy-five thousand, four hundred and thirty-six Naira, five kobo (N13,908,575,436.5).
"Aside protecting the national economy, some of the seizures achieved protection of citizens' health because dangerous, expired and harmful products were prevented from being smuggled into the country.
"The items seized were foreign parboiled rice, vehicles, drugs, textiles, petroleum products and other items in the import and export prohibition lists.
"In terms of volume, rice topped the list of our seizures. We seized 93,102 X 50kg which a mounts to about 156 trailer loads of rice. Even our newly constructed warehouse had an overflow of seized rice.
"A total number of 108 automobiles comprising of trucks, tankers, cars and motorcycles were seized either as smuggled items or means of conveyance of smuggled items.
"Illicit drugs seized within the year under review are: 2,354 kg and 4,976 tablets of Cannabis sativa, 233 cartons X 225 milligrams, and 82 packs X 225 milligrams of Tramadol. It is pertinent to remind us that these hard drugs fuel crime and insecurity.
"For petroleum products, the Unit seized 656,414 litres of premium motor spirit (PMS); that is, about 20 tanker loads of fuel from economic saboteurs who seek to impoverish the majority of our country people by taking out petrol subsidized for citizens' benefit to be s old in other countries.
"We arrested 176 smuggling suspects last year, secured 7 convictions, 14 were charged to court and are at various stages of investigation and prosecution, 7 suspects are in detention; 2 suspects were handed over to NDLEA, and 1 suspects was handed over to the Nigerian Police respectively, while 151 are on administrative bail."
Speaking on a sad note, he said, "Four (4) of our officers namely; Late Inspectors of Customs TP Astor, and A Onwueguzie, and Assistant Inspectors of Customs, Musa, R and Bristol, E lost their lives in active service while confronting smugglers last year. While we frowned at such murderous acts, we also ensured that those behind some of the killings were arrested to face justice.
"As approved by our enabling laws, the Unit patrolled within its area of responsibility and ensured that smuggled items were uncovered and seized wherever they were hidden.
"Our round the clock patrol is ever recharged as we don't believe in leave, not even during the yuletide. Those who doubted this and attempted smuggling during the yuletide were shocked at our Christmas and New Year period operations.
"We achieved these using a combination of vigour, relying on the logistics provided by the Comptroller General of Customs and intelligence gathered from the field about smuggler s' movement from time to time."
Speaking on revenue, Ejibunu said, "While on our enforcement function, we recovered shortfalls in duty payments and achieved a total collection of eight hundred and seventy-eight million, three Hundred and four ty-four Thousand, Four hundred and eighty-six Naira, Ninety-six Kobo. (N878,344,486.9 6) as revenue for the government in 2022.
"This collected revenue would have been lost but for the intervention of FOU 'A', checking to be sure correct duties were paid into government coffers.
"Within the period under review, this unit provided support for facilitation of legitimate trade, ensuring ease of passage for compliant traders and double checking suspected noncompliant traders.
"We also provided escort services for cargoes under bond to their respective destinations across the country."
Ejibunu while speaking on the projection for 2023 said, "We want to thank the CGC and his management team for their unflinching support throughout last year and the previous years.
"For 2023, we shall sustain and increase the tempo of our anti-smuggling operations, ensuring zero compromise as usual, arresting perpetrators and seizing their wares.
"We want to advise smugglers and their collaborators to seek legitimate means of livelihood this year as this Unit will continually make life unbearable for them through interdictions, arrests, seizures and diligent prosecution."
NIMASA DG calls for contributory pension for dockworkers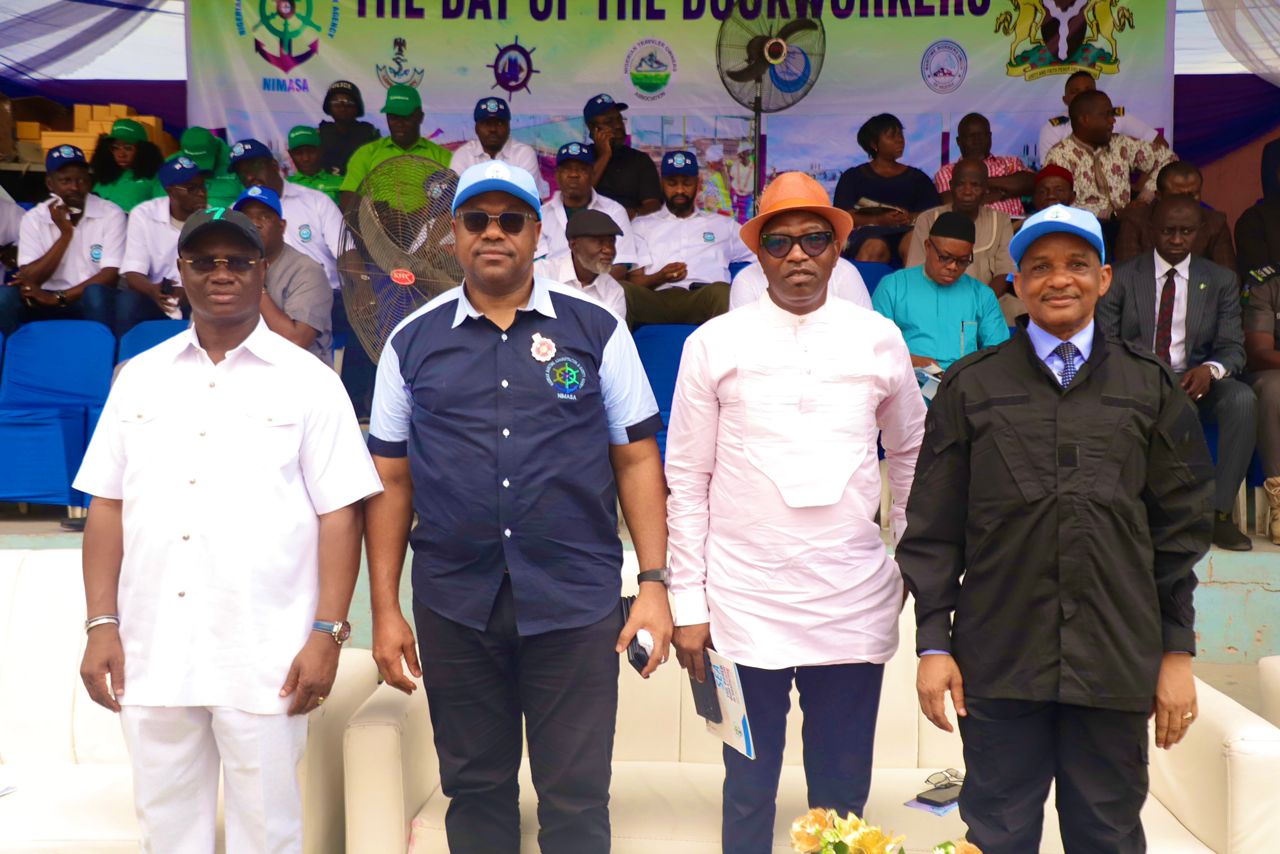 …As agency hosts maiden 'day of the dockworker' event
By Seun Ibiyemi
It was a milestone event for the local maritime industry as the Nigerian Maritime Administration and Safety Agency (NIMASA) hosted the maiden edition of the 'Day of the Dockworker' in Lagos recently.
With the theme of the event being "Healthy Dockworker, Better Productivity," it was an opportunity for stakeholders gathered to not just appreciate the efforts of Nigerian dockworkers at the center of the nation's import-dependent economy, but also to focus on ways of improving their health and general well-being.
Delivering his welcome address at the event, the NIMASA Director General, Dr. Bashir Jamoh OFR, charged employers of labor to ensure all dockworkers are enrolled on contributory pension schemes, while also emphasising the need for operators of Oil and Gas Terminals to allow only approved stevedores aboard their installations, to ensure compliance with relevant international guidelines and conventions.
According to Dr. Jamoh, "As we celebrate today, it is important to put in perspective the plight of dockworkers who spend the greater part of their working life at the ports, with little or nothing to show for it. As employers of labour, you must endeavour to put in place a Contributory Pension Scheme for dockworkers and ensure prompt remittances of both Employers and Employees contributions at the end of each month."
Speaking on compliance with stevedore inspections, he stated, "This occasion presents me with an opportunity to express the need for operators in the private jetties and Oil & Gas Terminals to grant operational access to the Stevedoring Contractors appointed by the Honorable Minister of Transport, to carry out stevedoring activities in assigned operational areas."
On his part, the President General of the Maritime Workers Union of Nigeria (MWUN), Comrade Adewale Adeyanju, in his address, thanked the NIMASA Management for organising the event to celebrate Nigerian dockworkers in recognition of the important role played by them.
In attendance at the event were representatives from the Federal Ministry of Labour and Productivity; Nigerian Ports Authority; Seaport Terminal Operators Association and the National Association of Stevedoring Operators (NASA).
Internationally, July 7th is marked as 'The Global Day of Action' and is organized by the International Dockworkers' Council (IDC) and International Transport Workers' Federation (ITF). It aims to raise awareness of port working conditions and emphasize the importance of collective bargaining rights.
LCCI tasks govt on transparent FX regime, multinationals' engagement
The Lagos Chamber of Commerce and Industry (LCCI) has implored the government to create a more flexible and transparent foreign exchange policy to address scarcity issues.
Its Director-General, Dr Chinyere Almona, gave the advice on Thursday in Lagos, in reaction to the recent announcement of Procter & Gamble to transition its Nigerian operations to an import-only model.
Recall that the Chief Financial Officer of Procter & Gamble, Andre Schulten, had said this move would effectively dissolve its on-ground presence in the country.
Almona noted that over the last few months, there had been a consistent increase in exit plans or a reduction in involvement in the Nigerian market by multinationals, saying the trend was worrisome.
She stated that the country's lingering foreign exchange scarcity, poor power supply, port congestion, multiple taxation, insecurity, and poor infrastructure, among others, had taken a toll on many businesses in the country.
She recommended that the government should implement measures to stabilise and ensure the availability of foreign exchange for businesses, particularly those operating in dollar-denominated environments.
"Further, the chamber urges the government to engage multinational corporations and the business community to understand their challenges and gather input and feedback on policy decisions to collaboratively develop solutions that would forestall the exodus of businesses from Nigeria.
 "The Central Bank of Nigeria (CBN) should prioritise the stability of the country's currency and adopt the right policy mix to ensure price stability," she said.
Tinubu appoints Omatsola Ogbe as new ES of NCDMB
President Bola Tinubu has approved the appointment of Engr. Felix Omatsola Ogbe as Executive Secretary of Nigerian Content Development and Monitoring Board (NCDMB).
The President in a statement by his Special Adviser on Media and Publicity, Ajuri Ngelale appointed new board members for the NCDMB.
According to the Spokesperson to the President, the President in conformity with Sections 71(1), 72, and 73 of the Nigerian Oil and Gas Industry Content Development Act (2010) approved the appointment of qualified Nigerians to serve on the Governing Council and Management team of the Nigerian Content Development and Monitoring Board (NCDMB).
The newly appointed board members include:Sen. Heineken Lokpobiri — Chairman / HMS, Petroleum Resources, Engr. Felix Omatsola Ogbe — Executive Secretary, Oritsemyiwa Eyesan — Member / EVP Upstream, NNPC Ltd, Gbenga Komolafe — Member / CEO, NUPRC, Bekearedebo Augusta Warrens — Member, Nicolas Odinuwe — Member, Rapheal Samuel — Member, Sadiq Abubakar — Member, Olorundare Sunday Thomas — Member.
Ajuri noted that the President expects the new appointees to discharge their duties with his patriotic resolve to significantly enhance indigenous industry participation in the energy sector as part of the Renewed Hope Agenda's mandate to achieve the goal of 70 percent indigenous content and participation in the nation's energy industry during the lifespan of this administration.