NUPRC deploys initiative to assist marginal field awardees in field development
The Nigerian Upstream Petroleum Regulatory Com mission (NUPRC), says it is planning a production based lending engagement to assist the 2020 Marginal Field Bid Round licences awardees to source needed capital.
The NUPRC said it would help the awardees to commence full field development toward hitting first oil.
Mr Gbenga Komolafe, Commission Chief Executive, NUPRC in a statement on Tuesday said the engagement would be between the Commission, Petroleum Production Licence (PPL) Awardees, Exploration and Production (E&P) service providers and Nigerian Banks.
"It is to provide platforms for strategic partnership/alliance between the awardees and the service providers for Well Re-entry and drilling services.
"The arrangement is to be offered on service fee recoverable by the service providers from production to be attached," he said.
Komolafe said the commission had already concluded plans to organise an E&P International Financing Road show in Abuja in the coming weeks for financiers, investment bankers, private equities, and multi-lateral institutional investors.
According to CCE, the initiative is to showcase the high value quick win opportunities available to investors in the recent PPL awards, the ongoing National Gas Flare Commercialisation Programme, as well as the on-going Mini-bid awards.
In order to ease the challenges thrown up by the initial corporate governance issues that arose before the inauguration of the Petroleum Industry Act (2021), he said  the Commission had developed a Corporate Governance Framework for upstream petroleum operations.
"The framework is currently at an advanced stage of internal review and stakeholders engagements required for its finalisation.
"This is to enhance sustainability, environmental and corporate governance requirements and to facilitate capital attraction by investors for the optimal and efficient development of the PPLs and other assets," he said.
He said the commission initiated revision of the subsisting Extended Well Test (EWT) Guideline to facilitate dynamic data gathering and accelerate the achievement of first oil to enhance early cash flow and speed up the journey to first oil.
This strategy, he said had already yielded positive results with 16 companies submitting Field Development Plan (FDP), two already commencing unitisation processes, six re-entries and two having gone through the EWT.
However, he said  the Commission was not unmindful of the protracted dispute among some of the awardees triggered by shareholder disagreements and/or misunderstanding.
"We are collaboratively engaging the parties and mediating to facilitate early closure and diligent progression toward achieving the expected regulatory milestones, including value creation and hitting first oil.
"Since the award of forty-seven (47) PPLs to solely Nigerian entities in June 2022, the commission has made concerted efforts within the stipulations of the law, to provide statutory guidance and support toward the progression of the assets to field development.
"Steps taken include the convocation of Regulatory Induction Programme for PPL awardees to enable them have the requisite understanding of the statutory protocols from the award to first oil.
According to him, a week-long tripartite engagement in Lagos for all awardees and initial asset owners in 2022, with about 30 entities in attendance has also been taken.
"During that event, both the awardees and former asset owners resolved all impediments to the smooth take over by the awardees and operation to first oil.
"That event set the stage for engagements on issues required to fulfil initial work programme obligations," he added.
He said areas that were presented and rigorously deliberated upon included Royalty and Tax administration, Data Exchange Protocol and Leasing requirements.
Komolafe also listed others as Field Development Plan under the PIA (2021), Permitting Processes for Drilling and Re-entry Applications, Production Accounting, Facilities Deployment, and Host Communities' Development.
FG committed to implementing CNG Keke policy – NOA
The Director-General of National Orientation Agency (NOA), Malam Lanre Isa-Onilu, on Friday restated the Federal Government's commitment to implementing Compressed Natural Gas (CNG) Keke (tricycle) policy.
Isa-Onilu, who said this on Friday at a news conference in Abuja, said that the policy was part of government's efforts to alleviate the current economic hardship facing the citizens.
Compressed Natural Gas (CNG) is a feasible gaseous fuel that is relatively very cheap, environmentally friendly, safe to handle and has abundant available energy.
The director-general added that the policy also geared towards cutting transportation cost, to ameliorate the suffering of citizens.
According to him, the CNG will offer opportunity to local farmers to move their crops at affordable cost from their farms to the market.
"CNG will reduce fuel dependency and scarcity within the country by a wide margin, as well as strengthen uniformity of national transit system.
"Government will deploy 10,000 CNG filling stations across the country, while private marketers are also in the process of adding CNG points to their business," NOA boss said.
According to him, the Federal Government is committed in providing Nigerians with affordable energy options. The use of CNG stands as a testament to this commitment.
"CNG offers cost savings for consumers, businesses, and government operations in ensuring that energy remains accessible to all.
"As part of our environmental stewardship, the adoption of CNG aligns with the government's goal to create a cleaner and healthier nation.
"By choosing CNG over traditional petrol, we reduce harmful emissions such as carbon dioxide (CO2) nitrogen oxides (NOx) and particulate matter, in contributing to improve air quality and smaller carbon footprint."
The director-general said that government recognised the importance of utilising domestic resources to enhance energy security, by the promotion of the use of CNG, sourced locally.
This, he added, would reduce dependence on imported petroleum products, as well as supporting national economic resilience.
He restated the agency's commitment in leveraging on the cost cutting benefits of this CNG Keke, to ensure that its community orientation mobilisation officers reach out to communities with government messages.
According to him, the agency has partnered with the Ecomead company to enlighten Nigerians on the Compressed Natural Gas(CNG) Keke tricycle policy.
Also speaking, Chief Executive Officer, Ecomead Company, Mr Kayode Zubaim, commended NOA for embarking on government's CNG campaign programme to ensure Nigerians were updated with the policy.
According to him, the provision of CNG is apt and will help to cushion the effect of fuel subsidy removal on Nigerians.
He added that the decision of President Bola Tinubu made Ecomead to wear a thinking cap, to contribute its quarter to the nation's development.
"After carrying out series of research, we are able to come up with a brand that will use both CNG and patrol.
"But the truth is that it is manufactured to use CNG with the capacity of five kilogramme that rider can manage for minimum of one week.
"CNG is environmental friendly and such will help to reduce Nigerians problems, especially those in the rural communities and communities transport system.
"With NOA partnering with us, we can get across to all part of the country in making sure Nigerians know about CNG Keke ," he said.
He added that the issue of transportation would drastically reduce with the intervention of CNG when Nigerians made use to the product .
Mr Shamrat Sharna, Regional Manager, Simba TVS, said CNG looked new to Nigeria, but the product has been used all over in India.
FCTA uncovers illegal refinery in Abuja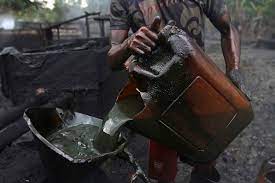 The Federal Capital Territory Administration (FCTA) has discovered the presence of an illegal oil refining warehouse in Mabushi, Abuja.
The Director, Department of Development Control, Mukhtar Galadima, who spoke to journalists said that the illegal refining site was uncovered during the continuation of the city cleaning exercise.
Galadima disclosed that about three to four plots of land designated for commercial purposes have been converted to an area where oil and diesel are being adulterated and circulated to other parts of the city.
He said that the city sanitation task force will look into the provision of the law and make necessary recommendations to the FCT Administration for further actions on the plots used for the activity.
He added that there was no arrest, but the items used in carrying out the illegal refining have been impounded.
"During the continuation of our city sanitation exercise in Mabushi opposite Mobile filling station on Ahmadu way, we discovered an illegal refining site where oil and diesel are being adulterated, we have done the needful by moving the items to Nigerian Security and Civil Defence Corps.
"From what we have seen so far, about three or four plots of land designated for commercial purposes have been converted to unapproved activities, which we believe the owners are fully aware of. There will be consequences. We are going to look at the provision of the law and make necessary recommendations to the FCT Administration," he said.
Gas production declines despite FG's N250bn intervention fund to 15 companies — Report
The Energy Institute report has revealed that the production of natural gas fell last year despite an N250 billion intervention fund provided to fifteen companies.
According to the industry report in partnership with KPMG, Nigeria's natural gas production dropped by 4 billion cubic feet meters between 2021 and 2022.
The country's gas production recorded at 39 billion cubic feet meters as of 2012 was on a steady growth and had grown to 49 billion cubic feet meters as of 2020, suddenly crashed 45 billion cubic meters in 2021, and then 40 billion cubic meters last year.
According to the report, "The development happened despite a N250 billion intervention fund by FG through the Central Bank of Nigeria, out of which N130 billion was doled out to 15 companies for the construction of Compressed Natural Gas conversion centres.
"The NGEP was introduced by the Federal Government to make the CNG the fuel of choice for transportation and the Liquefied Petroleum Gas, the fuel of choice for domestic cooking, captive power and small industrial complexes."
After the flag off of NGEP, the CBN also introduced the N250 billion intervention facility to help stimulate investment in the gas value chain as part of its efforts at stimulating finance to critical sectors of the economy.
The fifteen companies – Dangote Oil Refinery, Nipco Gas Ltd, Nipco Plc, Hyde Energy Ltd, Lee Engineering and Construction Company, Pinnacle Oil and Gas FZE, Transit Gas Ltd, Amalgamated Oil Company Nig Ltd, First Modular Gas Systems Ltd, NOVAGAS Ltd, Greenville Liquefied Natural Gas Company, AP LPG Limited, and MOB Integrated Services Limited, Delta State Government, and Gas Nexus Ltd that received a combined N130 billion, would on Thursday face the Senate Committee on gas chaired by Jarigbe Agom Jarigbe.
The summon letter by the Senate said, "The invited companies are required to appear with their progress reports, stating location or projects and the current status of the projects."