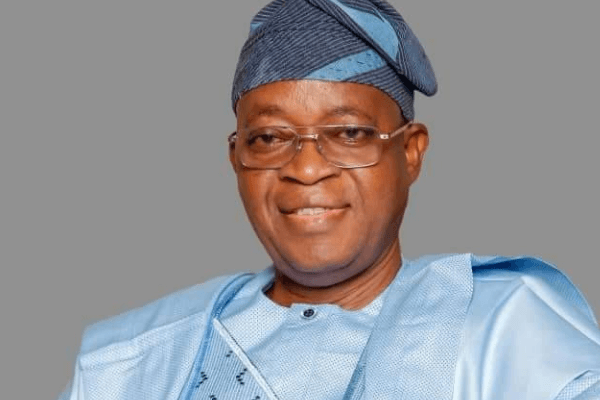 …Despite rumoured rift, Osun APC is one — Party Spokesperson, Oyatomi
By Abimbola Abatta
The All Progressives Congress (APC), Osun State Chapter, under the leadership of Adegboyega Oyetola, has recorded exponential success as seen in the past three years.
On Saturday, November 27th, 2021, Oyetola celebrated his third anniversary as the Governor of the State.
In his goodwill message during the anniversary, the Governor reeled out his achievements in the past three years while also reiterating his commitment to fulfilling other promises.
According to Oyetola, his administration is anchored on the genuine quest for an Osun that works, a prosperous Osun driven by an untainted vision, ethical fortitude, and a well-thought-out developmental roadmap.
His pledge to operate a people-centred government led to the Thank-You tour which was aimed at assessing the needs and yearnings of residents and citizens of the state.
The governor has been described by many as a prudent manager of resources whose experience and expertise have helped the state operate fully despite the paucity of funds inherited from the previous administration.
As part of the vow to build an economy that is fully revitalised while leveraging the available resources to create wealth and sustainable development, Oyetola revitalised some General Hospitals and over 300 of the 332 Primary Health Centres.
The Osun Health Insurance Scheme (OHIS) was also instituted to deliver affordable healthcare to Osun workers while offering free health services to the vulnerable.
This administration has rehabilitated roads across the Nine Federal Constituencies to improve the road network, open up the rural areas and ease movement of the people and their produce to ensure rapid socio-economic development.
To prove that his government is a continuation of the previous administration led by Aregbesola, Oyetola has sustained the construction of the major road projects he inherited from his predecessor.
He had noted during his goodwill message on Saturday that his administration "will continue to fund the dualisation of Gbongan-Akoda Dual Carriage Way, as well as Old Garage (Osogbo)-Ikirun-Ila-Odo-Erinle, which, together, are Federal Roads spanning a total length of 66.8 km."
Some of the roads that this administration has rehabilitated include: Ada-Igbajo road, Osogbo-Kelebe-Iragbiji road, and Akindeko-Awosuru link road via Adejumo Street with Oremeji spur, Akinlade Street, Adewale Street with loop to WAEC road all in Osogbo; Army Barack (Ede)-Ara-Ejigbo township road.
Others are Moro-Yakoyo-Ipetumodu-Asipa-Ife/Ibadan Expressway Junction Road and Ereja Roundabout-Ereguru-Isaare-Oke Oye-Sabo (Irojo)-Ilesa/Akure Expressway Junction, Iloro/Aganun/Abiri road, Itaasin (St. Stephen Church)-Our Lady School-Police Divisional Headquarters, Famia Road, Nike Gallery-Ido-Osun Township airport with palace spur, Ikirun-Eko-Ende Road and Gbogan Township Road to mention but a few among several others.
The government has also concluded arrangements to begin work on roads in Iree, Inisa, Ife, Ijesa Land, Osogbo, Olorunda, Irepodun, Orolu, Oba Ile and Oba Oke, and Ikire.
To deliver quality and functional education, the administration has rehabilitated and provided modern facilities in some government schools across the state.
The agriculture sector is not left out as the government is providing an enabling environment for the sector to thrive. Farmers are being empowered through access to loans, high-quality seedlings, and training, among others.
Priority is being given to the welfare of workers and pensioners despite the economic challenges. Workers' salaries are promptly paid, and Osun is one of the few states that have implemented the minimum wage. Similarly, about 40 billion naira has been disbursed for pensions and gratuities, including the backlog of arrears at the State and Local Government levels.
The ruling party has not relented in its social intervention programmes designed for the vulnerable and the needy. Worthy of note is the ongoing Osun Food Support Scheme aimed at supporting 30, 000 vulnerable persons every month.
Meanwhile, it is no longer news that the relationship between Governor Adegboyega Oyetola and his predecessor, Ogbeni Rauf Aregbesola has gone sour.
While Oyetola and Aregbesola's loyalists keep hurling damning allegations against one another, the two politicians have not publicly announced that there is a misunderstanding between them.
However, regardless of the wranglings within the ruling APC, Governor Adegboyega Oyetola has continued to fulfil his promises to the residents and citizens of the state.
Despite rumoured rift, Osun APC is one —Party Spokesperson, Oyatomi
On the alleged rift within the ruling APC, the party's Director of Publicity, Research and Strategy, Barr Kunle Oyatomi, said the party remains one, notwithstanding the disagreements.
Oyatomi revealed this on Sunday in a phone interview with our correspondent.
Noting that The Osun Progressives (TOP), the APC caucus that constitutes Aregbesola's loyalists, is not against Oyetola's second term ambition, he said "they are all in this same party as one."
Oyatomi further noted that although disagreements are bound to occur, the party is not opposed to reconciliation, saying the party has all it takes to resolve any crisis.
According to him, "There is just one singular political party which is in existence in Nigeria today, but as far as Osun is concerned, it is also the leading party, the party in government. And as far as we are concerned, we have no quarrel with anybody.
"If you ask the other party, they will tell you that they are not against Oyetola neither are they against him from presenting himself for the next election. Even I have not heard or seen nor have I been told the cause of their disagreement.
"However, we welcome reconciliation and anything that will unite everybody. They will never tell you that they are from a different party. They are all in this same party as one. When election comes, definitely, people will know that they cannot do any other thing.
"APC is too big not to have some people who will try to question how things are done. It gives you the way and manner a political party like APC runs. We just have to contend with that kind of thing because it's too big to be managed to have just one voice.
"There are bound to be disagreements, but disagreements cannot be a continuous into a war. It will be resolved, and internally, we have all it takes to resolve any crises or any disagreements, and that's exactly what we are doing now."