Naira scarcity: Traders reduce prices of goods for cash payment
Some traders in the FCT markets are reducing the prices of goods for customers paying with cash to enable them to make sales.
The traders who spoke with the News Agency of Nigeria (NAN) in Abuja on Monday in some markets in the FCT, complained that their inability to get cash with which to purchase goods to stock their shops decided to give discounts to customers buying their goods with cash.
They appealed to the Central Bank of Nigeria (CBN) to make concerted efforts to address the lingering cash crunch to prevent a total collapse of economic activities.
Mr Innocent Agu, a meat seller at Lugbe Market, told NAN that he decided to give discount to those buying goods from him with cash as he needs money to buy cows.
Agu said that although a kilo of meat was sold for N3,000, he could afford to sell the same volume of meat for N2, 800 "because it is not easy to get money from the bank".
"However, for those buying meat by transferring money to my account, I sell at N3,500 per kilo as I have to pay some charges to the Point of Sale (POS) operator who will give me the money.
"I prefer collecting cash because those selling cows in the bush do not have bank accounts. So we take our money there to buy from them,'' he said.
Malam Adamu Abubakar, a trader who sells rice and beans at Lugbe market, said that a measure of beans sells for N750 "but if I see a customer who has cash, I can sell for N600".
According to him, it is difficult to get cash and for that reason, he does not transact business using bank transfer.
"So for those paying with cash, I am ready to reduce the price so that I can sell the commodity before it gets spoilt," he said.
Another trader at the Garki Market, Malam Ahmed Aliyu who sells tomatoes, said that a small basket of tomatoes goes for between N1,200 to N1,000.
He added that if he were to get somebody willing to pay cash, he could sell the same basket of tomatoes for N800.
Aliyu said that tomatoes were perishable goods and could not be kept for a long time, hence he was ready to reduce the price in order to prevent or at least minimise losses.
"I would rather reduce the price at which I sell tomatoes than allow them to go bad,'' he said.
Another trader, a vegetables seller at the Garki Market, Mrs Oluchi Ogbonna, said she sells the commodity cheaply because they could not be kept for long.
Ogbonna said that before now, she sold a wrap of pumpkin leaves (Ugu) for N200 but now sells the same wrap for N150 or N100 to be able to go back to the market and restock her stall.
"I cannot collect money by transfer of N200. So I sell cheaply so that people can buy them quickly as they are perishable goods,'' she said.
Mrs Titilayo Olufemi, who sells clothing materials at Wuse Market said that since cash scarcity began, she had not made any sales.
Olufemi said that nobody wanted to buy clothes as what everyone is after is how to feed themselves and their families.
She said that if anyone came to patronise her, she was ready to reduce the prices of her goods.
Also at the Wuse Market, Mr Obinna Uzo, who deals in shoes and bags said that he hardly received money from sales since cash became scarce.
"I hardly sell anything these days. Nobody wants to buy shoes or bags these days. So, I just sit here every day praying for somebody to patronise me,'' he said.
A NAN correspondent who conducted the market survey in the FCT, reports that customers could be seen in large numbers waiting to enter the banking halls in the various locations, even when most of the ATM machines at the banks could not dispense cash.
NIMASA DG calls for contributory pension for dockworkers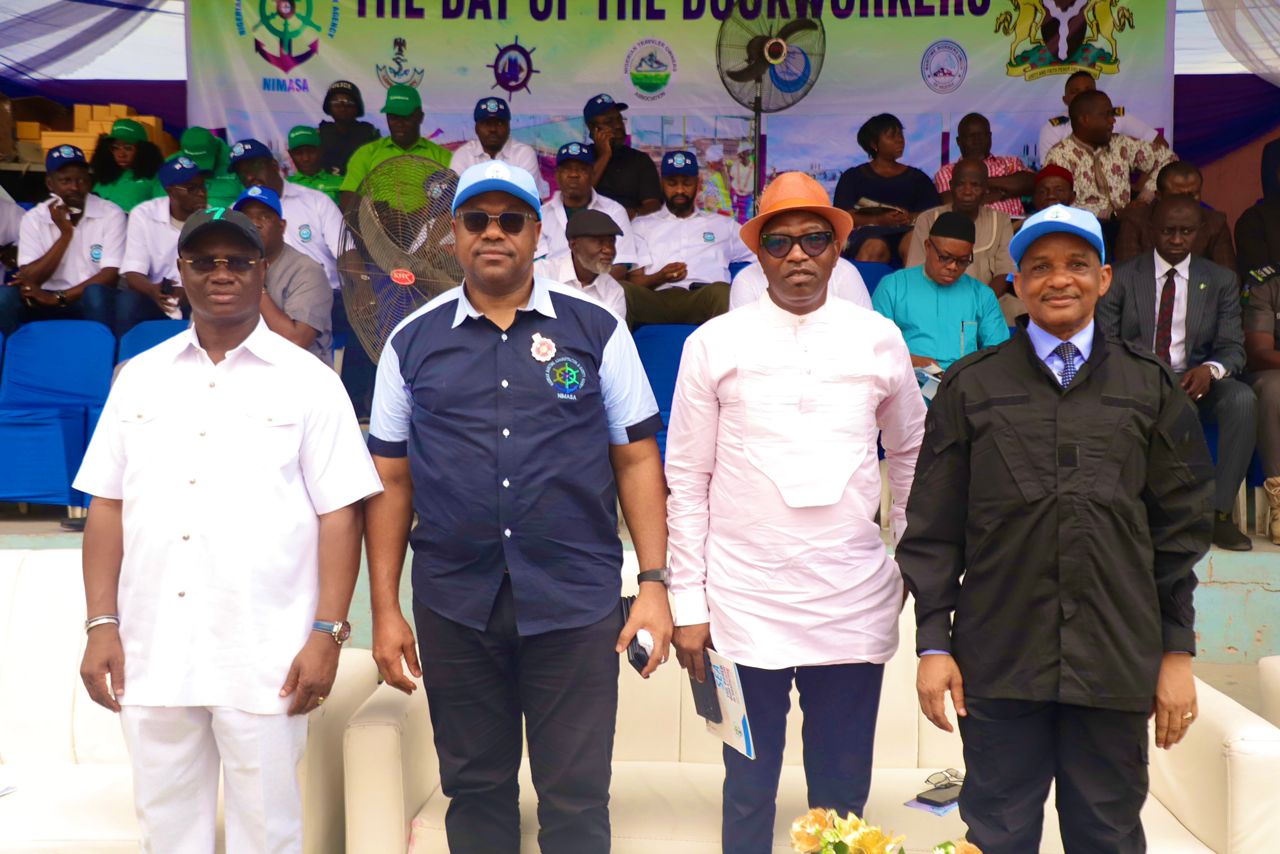 …As agency hosts maiden 'day of the dockworker' event
By Seun Ibiyemi
It was a milestone event for the local maritime industry as the Nigerian Maritime Administration and Safety Agency (NIMASA) hosted the maiden edition of the 'Day of the Dockworker' in Lagos recently.
With the theme of the event being "Healthy Dockworker, Better Productivity," it was an opportunity for stakeholders gathered to not just appreciate the efforts of Nigerian dockworkers at the center of the nation's import-dependent economy, but also to focus on ways of improving their health and general well-being.
Delivering his welcome address at the event, the NIMASA Director General, Dr. Bashir Jamoh OFR, charged employers of labor to ensure all dockworkers are enrolled on contributory pension schemes, while also emphasising the need for operators of Oil and Gas Terminals to allow only approved stevedores aboard their installations, to ensure compliance with relevant international guidelines and conventions.
According to Dr. Jamoh, "As we celebrate today, it is important to put in perspective the plight of dockworkers who spend the greater part of their working life at the ports, with little or nothing to show for it. As employers of labour, you must endeavour to put in place a Contributory Pension Scheme for dockworkers and ensure prompt remittances of both Employers and Employees contributions at the end of each month."
Speaking on compliance with stevedore inspections, he stated, "This occasion presents me with an opportunity to express the need for operators in the private jetties and Oil & Gas Terminals to grant operational access to the Stevedoring Contractors appointed by the Honorable Minister of Transport, to carry out stevedoring activities in assigned operational areas."
On his part, the President General of the Maritime Workers Union of Nigeria (MWUN), Comrade Adewale Adeyanju, in his address, thanked the NIMASA Management for organising the event to celebrate Nigerian dockworkers in recognition of the important role played by them.
In attendance at the event were representatives from the Federal Ministry of Labour and Productivity; Nigerian Ports Authority; Seaport Terminal Operators Association and the National Association of Stevedoring Operators (NASA).
Internationally, July 7th is marked as 'The Global Day of Action' and is organized by the International Dockworkers' Council (IDC) and International Transport Workers' Federation (ITF). It aims to raise awareness of port working conditions and emphasize the importance of collective bargaining rights.
LCCI tasks govt on transparent FX regime, multinationals' engagement
The Lagos Chamber of Commerce and Industry (LCCI) has implored the government to create a more flexible and transparent foreign exchange policy to address scarcity issues.
Its Director-General, Dr Chinyere Almona, gave the advice on Thursday in Lagos, in reaction to the recent announcement of Procter & Gamble to transition its Nigerian operations to an import-only model.
Recall that the Chief Financial Officer of Procter & Gamble, Andre Schulten, had said this move would effectively dissolve its on-ground presence in the country.
Almona noted that over the last few months, there had been a consistent increase in exit plans or a reduction in involvement in the Nigerian market by multinationals, saying the trend was worrisome.
She stated that the country's lingering foreign exchange scarcity, poor power supply, port congestion, multiple taxation, insecurity, and poor infrastructure, among others, had taken a toll on many businesses in the country.
She recommended that the government should implement measures to stabilise and ensure the availability of foreign exchange for businesses, particularly those operating in dollar-denominated environments.
"Further, the chamber urges the government to engage multinational corporations and the business community to understand their challenges and gather input and feedback on policy decisions to collaboratively develop solutions that would forestall the exodus of businesses from Nigeria.
 "The Central Bank of Nigeria (CBN) should prioritise the stability of the country's currency and adopt the right policy mix to ensure price stability," she said.
Tinubu appoints Omatsola Ogbe as new ES of NCDMB
President Bola Tinubu has approved the appointment of Engr. Felix Omatsola Ogbe as Executive Secretary of Nigerian Content Development and Monitoring Board (NCDMB).
The President in a statement by his Special Adviser on Media and Publicity, Ajuri Ngelale appointed new board members for the NCDMB.
According to the Spokesperson to the President, the President in conformity with Sections 71(1), 72, and 73 of the Nigerian Oil and Gas Industry Content Development Act (2010) approved the appointment of qualified Nigerians to serve on the Governing Council and Management team of the Nigerian Content Development and Monitoring Board (NCDMB).
The newly appointed board members include:Sen. Heineken Lokpobiri — Chairman / HMS, Petroleum Resources, Engr. Felix Omatsola Ogbe — Executive Secretary, Oritsemyiwa Eyesan — Member / EVP Upstream, NNPC Ltd, Gbenga Komolafe — Member / CEO, NUPRC, Bekearedebo Augusta Warrens — Member, Nicolas Odinuwe — Member, Rapheal Samuel — Member, Sadiq Abubakar — Member, Olorundare Sunday Thomas — Member.
Ajuri noted that the President expects the new appointees to discharge their duties with his patriotic resolve to significantly enhance indigenous industry participation in the energy sector as part of the Renewed Hope Agenda's mandate to achieve the goal of 70 percent indigenous content and participation in the nation's energy industry during the lifespan of this administration.