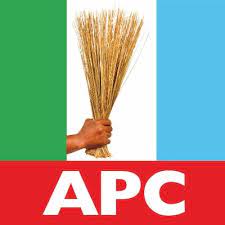 …As Abdullahi Sule lauds APC NWC
By Joel Oladele, Abuja
One of the chieftains of the ruling All Progressives Congress (APC) from Abia state has described an attempt by APC to zone its presidential ticket to the southern part of the country as a costly game that can lead the party into extinction, especially if the major opposition party decides to zone same slot to the North.
He stated this while addressing journalists on Monday after picking the expression of interest and nomination forms for the senate President Ahmed Lawal who has also joined other aspirants contesting for number one seat in Nigeria under APC.
According to Nkiru, they are on rescue mission with the sole aim of saving APC from being overthrown by PDP come 2023 and the only way that can be done is for the party to field a northerner like Ahmed Lawal as its presidential candidate.
"Every politician is in politics to win. It is PDP that is driving us to do this. We have said so. But we don't want PDP to take the government from us. If you give the position to a southerner and PDP gives to a northerner, APC will go into the wilderness and we are not ready to go into the wilderness."
Speaking further, he said Senator Ahmed Lawal will make a good president with his leadership qualities which have been proven over time. He added "under him, there will be national stability  and with him, Nigeria is in a safe hand.
"A president that we are bringing for  Nigerians is a Nigerian president, not an Igbo president, not a Fulani president, not a Yoruba president. But a Nigerian president who we have watched and seen that there would be no other candidate that will be so level-headed and someone who has the feelings of the poor Nigerians."
Nkire was accompanied by senators and senior members, businessmen and politicians who are members of the All Progressives Congress (APC).
Meanwhile, the Nasarawa state Governor, Governor Abdullahi Sule has lauded the Abdullahi Adamu led National Working Committee of the ruling All Progressives Congress (APC) over good leadership being provided since assumption of office.
He stated this while speaking to journalists on Monday in Abuja after submitting his expression of interest and nomination forms for his second term ambition as the Governor of the state.
According to Abdullahi, APC is such an exciting and attractive party that everyone now eagers to join due to its adherence to rules of law and tolerance to democracy.
"It's always exciting, it's actually a time for that, we truly appreciate the leadership  being provided. The Leadership being  shown by our new chairman of the party, distinguished Senator Abdullahi Adamu, Turakin Keffi and all the new members of the working committee, we have seen orderliness, we are actually seeing the capacity and the competence  of these new members of the working committees.
"To me it is a very exciting moment; more exciting for me personally because this form that I just submitted was purchased for me by  common people in  Nasarawa state coming out together raising 1000, 500, 2000. They were ready to raise the funds to buy these forms for me. So, that is what is exciting for me and the submission of these forms.
"I think the more people that are showing interest the more it is proving to the world how exciting the party is. Whatever that is good would attract people. There are so many other parties that don't even have anybody that is purchasing form apart from the two political parties we have.
"In fact if you have one thousand people who are showing interest, it clearly shows that at the end of the day we will select the best. So, it is not everyone that bought a form that is going to be seen as anything serious. And I think the more the merrier that are showing interest to buy our form which is the most expensive. It means we are  the party to beat, we are the party of excitement, we are the party of attraction that is the reason why you are seeing that.
Clearing the air on the rumour going around  that he once said he would only serve for one term, Abdullahi denied saying so and described it as a mere propaganda by opposition.
"I never said that I'm coming out for one term. And let me use the opportunity to clarify that. What happened was that the same opposition that are showing interest actually sent someone to ask what will be my reaction about people who are calling me one term and I said to them if God Almighty makes it one term. I, Abdullahi Sule, would be more than happy to spend my one term and  go back. So, what they did was to pick it exactly where I said to start my one term because they are afraid. They shouldn't be afraid of Abdullahi Sule, they should come in and make it one term. It's not too late. They should come and beat me at the polls and make it the one term."