By Pamilerin Jacob
Mid-February, I encountered a scholarly work that documents 50 women poets from 1985-2006. I mentioned this in my editorial note of the inaugural issue of EREMITE POETRY. I'd said:
"…while working on an article for Poetry Column-NND, I stumbled upon this piece of scholarly work by Aderemi Raji-Oyelade and Remi Raji-Oyelade that catalogs 50 Nigerian women poets from 1985 to 2006. It's called 'Notes toward the Bibliography of Nigerian Women's Poetry (1985-2006).'
 50 women! 50 poets, whose works remain outside the domain of communal memory. We owe the coming generation a duty of preservation. Our cute, powerful poems mean nothing if they have the lifespan of an election cycle due to our inability to create an archive…"
Searching "contemporary female Nigerian poets" on Google, the names that pop up on Wikipedia include: Hafsat Abdulwaheed, Catherine Obianuju Acholonu, Yemi Adesanya, Toyin Adewale-Gabriel, Chimamanda Ngozi Adichie, Nana Asma'u, Ayo Ayoola-Amale, Edoheart, Theresa Lola, Toki Mabogunje, Chioma Okereke, Mabel Segun, Lola Shoneyin, Titilope Sonuga, Wana Udobang, Ijeoma Umebinyuo, and Jumoke Verissimo.
All wholesome names with outstanding oeuvres, not enough, however are listed. This is what happens when we refuse to do the cataloging ourselves, when we refuse to archive. The world simply handpicks, skims the surface of our brilliance. Hence, the reason for this list—which also isn't an exhaustive list. Please continually create other lists with new names!
Here is a list of contemporary Nigerian women poets—in no particular order—whose poems we think will make your March a delight:
Sarah Aluko is a Nigerian-British Author and Poet. Sarah Aluko's poetry speaks of womanhood, being black, love, loss and heartbreak. As a result of this, she has built a following of thousands of young people on social media who consume her poems ferociously and share them widely. In 2017, Sarah Aluko released her debut anthology, Firstborn on International Women's Day, which was long-listed for the Out-Spoken Prize for Poetry in the same year. She was also commissioned to write a piece for the technology giants, Microsoft, to mark the launch of their new Surface Pro as well as a piece for Nasty Women, the global art movement that campaigns to end violence against women. Sarah has worked with England's largest organisation for performance poetry and spoken word – Apples and Snakes.
Jakky Bankong-Obi is a communications consultant who lives and writes from Abuja, Nigeria. Her work has been featured/forthcoming in London Grip, The Kalahari Review, Amberflorazine, Zarf Poetry, Gutter Magazine, Hobartpulp, Pidgeonholes, Memento: An Anthology of Contemporary Nigerian Poetry etc. She enjoys long walks, yoga & dabbling in nature photography. Jakky is on Twitter as @jakkybeefive.
Dipe Jola is a poet from Lagos, Nigeria. A Best Of The Net Nominee. She contributed to Momento: An Anthology of Contemporary Nigerian Poetry (Animal Heart Press 2020) edited by Adedayo Agarau. The first runner up for the Eriata Oribhabor Poetry Prize, 2018. Some of her published works are on African Writer, FeralPoetry, Minerallit, Kalahari Review, Turnpike Magazine, and elsewhere. She can be reached via Twitter @jola_ng
Daisy Odey (@daisyodey) is a Nigerian poet. She is the author of the chapbook Fragments in a closet which was published in the African Poetry Book Fund (APBF) New Generation African Poets Chapbook Box Set (2019), edited by Kwame Dawes and Chris Abani. Her poems have appeared or are forthcoming in Prairie Schooner, Memento Anthology, The Ake Review (3rd edition), Saraba (Issue 22), and others.
Oyindamola Shoola is a writer, author, and feminist. She is also the Co-founder of SprinNG, a non-profit organization dedicated to supporting Nigerian writers. Oyindamola graduated from Bronx Community College in 2017 and the New York University in 2020 with a Bachelor's Degree in Organizational Behavior and Change. An award-winning leader, writer, and student (of life) – she coaches others to enhance their career development and academic success experiences.
I.S. Jones is a queer American Nigerian poet and music journalist. She is a Graduate Fellow with The Watering Hole and holds fellowships from Callaloo, BOAAT Writer's Retreat, and Brooklyn Poets. I. S. hosts a month-long workshop every April called The Singing Bullet. I.S. coedited The Young African Poets Anthology: The Fire That Is Dreamed Of (Agbowó, 2020) and served as the inaugural nonfiction guest editor for Lolwe. She is a Book Editor with Indolent Books, Editor at 20.35 Africa: An Anthology of Contemporary Poetry, freelances for Complex, Earmilk, NBC News THINK, and elsewhere. Her works have appeared or are forthcoming in Guernica, Washington Square Review, Hayden's Ferry Review, Hobart Pulp, The Rumpus, The Offing, Shade Literary Arts, Blood Orange Review, Honey Literary and elsewhere. Her work was chosen by Khadijah Queen as a finalist for the 2020 Sublingua Prize for Poetry. She is an MFA candidate in Poetry at UW–Madison as well as the Inaugural 2019­­–2020 Kemper K. Knapp University Fellowship recipient. Her chapbook Spells Of My Name is forthcoming with Newfound in 2021. She splits her time between Southern California and New York.
Anointing Obuh is a writer, singer and photographer. A recipient of the NF2W9 2020 poetry scholarship, a Best of the Net nominee, she currently studies English and Literature at the University of Benin. Her works appear or are forthcoming in Rattle, Barren Magazine, Mineral Lit, The Lumiere Review, Blue Marble Review, Honey and Lime Lit, The Cabinet of Heed, Great Weather for Media, and elsewhere. She says hello.
Iyanu Adebiyi is a Nigerian born writer, poet and performer. She has featured in many stage performances, and has been actively involved with and artistically engaged by several institutions, community and arts organizations. Her work has been published in many journals and media outlets. Her spoken word album, Wonder, was released in 2020.  Her Twitter & Instagram handles are @iyanuadebiyi
Ebukun Gbemisola Ogunyemi is a Creative Writer, Researcher, Editor and Content Writer with over 4 years experience in creating and writing stellar, original and engaging contents for digital and non-digital brands such as African Freelancers, Glance Magazine, The Odyssey, etc. As a lightworker, she is interested in telling unconventional stories of humans, and creating safe spaces for vulnerability and authentic self-expression though storytelling, art and media. Ebukun is also the Manager of The SprinNG Women Authors Prize (@the_swapng), a literary award committed to promoting and empowering female Nigerian authors by yearly investing N200,000 in the buying and distribution of a select author's book. She is passionate about Purpose, Storytelling, Research, Teaching, and Content Writing for impact and growth.
Hauwa Shaffii Nuhu is a poet, essayist and author from Nigeria, whose work has appeared on Popula, Ake Review, Lolwe, The Republic, 20.35 Africa, Jalada Africa, and elsewhere. She is a 2018 Fellow of Ebedi Writers Residency. Her chapbook, "like a gift unto ourselves" has been selected by Kwame Dawes and Chris Abani for the New-Generation African Poets Boxset Series slated for publication in 2021 by Akashic Books and APBF.  She writes from Minna. Twitter: WaasiShaffii
Roseline Mgbodichinma is a Nigerian writer whose works have appeared or are forthcoming in The African Writer Magazine, The Hellebore, Serotonin Poetry, West Trestle Review, X-ray lit mag, JFA human rights mag, Serotonin poetry, Indianapolis Review, Artmosterrific, Kalahari review, Blue Marvel Review & elsewhere. She won the Audience Favorite award for the Union Bank Campus writing challenge – Okada books, she is the third prize winner for the PIN food poetry contest and a finalist for the Shuzia Creative writing contest. You can reach her on her blog www.mgbodichi.com and Twitter @Rmgbodichinma.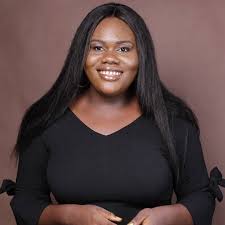 Chekwube Danladi is the author of Semiotics (Georgia, 2020), winner of the 2019 Cave Canem Poetry Prize. She has received fellowships and support from Callaloo, Kimbilio, Hedgebrook, Jack Jones Literary Arts, the Lambda Literary Foundation, Vermont Studio Center, and the Wisconsin Institute for Creative Writing. Joint winner of the 2016 Brunel International African Poetry Prize, her chapbook, Take Me Back, was included in the New Generation African Poets 2017 boxset. From Lagos (Yorùbá land) by way of West Baltimore (Piscataway and African American land), she currently lives on Chicago's South Side (Ojibwe, Potawatomi, and African American land). She teaches in the Writing Program at the School of the Art Institute of Chicago.
Olakitan Aladesuyi lives in Lagos where she works as a software developer/data analyst by day and a writer at odd hours. Her fiction and poetry have appeared in African writer, Kalahari review, Best New African Poets 2018 Anthology, Agbowó Art, Poetica Magazine, The Naked convos, As Equals Africa, Praxis magazine, Watershed Review, Prairie Schooner and is forthcoming in the Animal Heart Press Nigerian anthology.
Omotoyosi Salami is a writer living in Lagos, Nigeria whose writing is influenced by her yearning. She has been published in Vagabond City Lit, Constellate Lit, and Brittle Paper. If you do not find her reading a book, you will find her writing something on her phone. Her Twitter handle is @HH_Omotoyosi
Oluwafunmilayo Obasa, a non-fiction writer, poet, and photographer, is passionate about documenting muffled stories with her art. Her words paint the spontaneity of her imagination, humanity & equality [for all], desires, and emotions, in abstract ways, forging a relationship between society and existence. Some of her works are published in African Writer, Cephalopress, Brittlepaper, Kalahari Review, etc. When she is not writing poems or essays, she enjoys binging on cartoons and playing games.
Ibe Obasiota Ben is a Nigerian. She has won the Bloomsday Poetry Prize 2020, the African Writers' Trust Prize 2018 as well as the Briggitte Poirson Poetry Prize (Friendship edition). Her works have appeared on Brittle Paper, Kreative Diadem, Nigerian Students' Poetry Prize anthology 2019 and elsewhere. She writes from Calabar, Nigeria. Follow her on twitter: @obasiotaibe and on instagram: obasiota ibe.
Semilore Kilaso is a writer who loves to collect photographs of humans, architecture, wildlife, and landscape. When she is not playing Scrabble or reading books, she is reading lines from architectural drawings. Her work appears in Cultural Weekly, Entropy, The Radical Art Review, nantygreens, and elsewhere. You can reach her on twitter @ooreola
Emitomo Tobi Nimisire is a Writer, Sexual Reproductive Health and Rights (SRHR) Advocate, and Communications Strategist. She blogs at www.nimisire.wordpress.com. Find her on Twitter & Instagram: @Nimisire.
Ibukun Ajagbe (IBQuake) won War of Words poetry slam when she was 14. Her poems often interrogate Christian themes and their relation with secularity.
 Bunmi Africa is an Educational Psychologist, Writer, and Spoken Word Artist. She believes in freedom, hence her drive to share strong socio-political opinions and experiences through performance poetry. Writing is simply one of her ways of documenting and making sense of her perceptions of the world. She sees it as a means to break out of conformity and challenge norms.She loves the blend of music and spoken words with two EP intro tracks under her belt including "Ariwo Èkó" off the "Ariwo Èkó" EP and "I'm Queen" off the "Project Femme; Alte'cation" EP and an appearance on Headies- nominated rapper, Paybac's upcoming album. Bunmi Africa is the curator and co-host of "Spoken Word Lagos," a quarterly spoken word showcase for Mbari Uno and The Griot Company. She is also the producer and anchor of "Lagos Poetry Sessions," a weekend poetry radio show on City 105.1FM in Lagos, Nigeria.
Ejiro Elizabeth Edward is a writer from Nigeria. She is a recipient of the SBMEN fellowship and has been published on some online magazine such as Icefloe, Agbowo, Serotonin amongst others . She loves to read, dance and travel when she's not looking for her friends trouble. Find her on Twitter: Ejiroedward552.
22. Boloere Seibidor
Boloere Seibidor is a Nigerian poet & writer, with works forthcoming / featured on numerous magazines/journals, within and outside of Nigeria. She emerged winner of the Glassdoor Poetically Written Prose Contest 2020, and won honourable mention in the 2019 Kreative Diadem Creative Writing Contest. Most times, she also works as a ghostwriter.  She enjoys reading, writing, editing, copywriting, and sipping coffee as early as 5am. Boloere is greatly inspired by true life experiences, good music, and beautiful sceneries. She tweets @ boloere_sod
23. Rahma O. Jimoh
Rahma O. Jimoh is a Nigerian writer, photog, graphics designer and journalist in making. A student of Mass Communication at the Olabisi Onabanjo University. She is a 2021 Hues Foundation scholar and a 2020 Pushcart Prize Nominee. A lover of sunsets and monuments.  She has been published or forthcoming in The Hellebore, Ice Floe Press, Serotonin, Ninshar Arts, Lounge Arts, Kalahari Review, Feral, Praxis, Artmosterrific, The African Haiku Journal and elsewhere. Two of her poems were shortlisted in the 2018 Eid Contest, she was a Joint winner in the PIN 10-day poetry contest 2019, Second runner up in the Poesy writers contest 2019 and recently has a poem shortlisted as top ten in the Hysteria Writing Contest, 2020.  She is the Poetry Editor for The Quills, a Contributor at Best Of Africa and a Poetry Reader at Chestnut Review. She is a co-founder of Ramadan Tercets and she organized the Ramadan Tercets Poetry Contest in May, she also curated the Independence day anthology in October 2020. She tweets @dynamicrahmah.
Fragile Dogubo is a Nigerian creative writer and performance poet. She is the current winner of the War of Words (WOW) National Poetry Slam Season 8 and also winner of the Abuja Literary Festival (AlitFest) Grand Slam 2020. With an incredible appetite for life, the graduate of English and Literary Studies seeks to carve a niche for herself in performing arts and in Cosmetology with her hair and skin care brand: Nubiette Beauty.
Amarachi Attamah is an award-winning Chant Performance Artist, Poet, Broadcaster, Festival Manager, Creative Entrepreneur and a strong passionate voice in the sustainability of Igbo language speaking as well as other African languages. Recently, she completed a four-month fellowship with the Royal National Theatre, London, United Kingdom, where she performed in the fifty-two theatre productions of the 'Three Sisters' directed by Nadia Falls. A play by Inua Ellams, an adaptation of Chekhov's Three Sisters. She has also performed in numerous virtual events through the Pandemic including Igbo Conference organised in the UK, Abuja Literary Festival, Nigeria, Global Poetry Festival organised by Shared_Studio and Divercities poetry connect by Planet Word Museum, both of US based organisations. She has received numerous awards and honorary mentions for her very unique art.
Jideofor Confidence (she/her) is a queer Nigerian Mop-head. She slaves at an 8-5 job and barely makes out time for fun. She lives in a minimalist apartment with an imaginary cat and does not own a TV. Her Twitter handle is @dencety.
Zakiyyah Dzukogi is a 16-year-old teen author and a member of the Hill-Top Creative Arts Foundation from Himma International College. Her first work is a book of verses published when she was 10 years old (My Book of Poems). Her new unpublished poetry collection is titled CARVED which won the 2nd position in the maiden edition of Nigeria Prize for Teen Authors, 2020. She was the winner of the December 2019 edition of Splendors of Dawn Poetry Contest. She has her works published or are forthcoming in Upwrite Nigeria, Artmosterrific chapbook, the Nigeria Review, INNSAEI Journal, Konyashamrumi. She has featured in many Zoom panels discussing poetry, Red Eyes Development Initiative, PIN, 16 days for 16 poets etc. Her latest chapbook, Winters & Summers, was shortlisted for the Nigeria Prize for Teen Authors
Haneefah AbdulRahman is a spoken word artiste, poet, writer, interviewer and social entrepreneur. She has published some of her articles, short stories and poems in different journals including the Nigeria Review. She is the Financial Secretary and Editor I of Creative Writers' Club, Ahmadu Bello University, Zaria where she studies Literature.
Akubudike Deborah is a poet and lyricist from Imo State, who enjoys hiking, listening to music and writing. Her work has been featured or is forthcoming in The Cypress Journal, TWPM, The Unpublishable Zine amongst others. She can be reached on Twitter: ad_poet; Instagram: @ad_poet and blog: http://adpoet.home.blog.
Omolola Okunlola is a Nigerian writer of poetry and fiction born in Kwara State. A Babcock University student, she sees writing as a problem-solving experience; a way for reality to shift to the perfect state. Her poems have been published on Agbowo Art, The African Writers, Poetry Column-NND, and Eremite Poetry. Lola loves sharwama and yellow. She can be found on Twitter as @teslimat__
31.   Yvonne Nezianya
Yvonne Nezianya is a Nigerian writer. She was shortlisted for the K and L Prize 2020 and the 2020 Kreative Diadem Creative Writing Contest. A nominee for the Young Writers and Creatives Award, her works have appeared and are forthcoming in Glass Poetry, The Roadrunner Review, The Rising Phoenix Press, The Bitchin' Kitsch, Afritondo, Sub-Saharan Magazine, Praxis Magazine and elsewhere. Connect with her on Twitter @nezi_yvonne
I was unable to add two awesome names to this list, Kemi Alabi and Precious Arinze, who are excellent (Nigerian) poets. I don't know enough about their gender identities to add them to the list, and to avoid that error, I chose to omit their names. But they do deserve to be mentioned and read always.
Don't forget to submit to POETRY COLUMN-NND throughout the month of March. We want to feature only women this month. Jakky Bankong-Obi is our Guest Editor for the month.