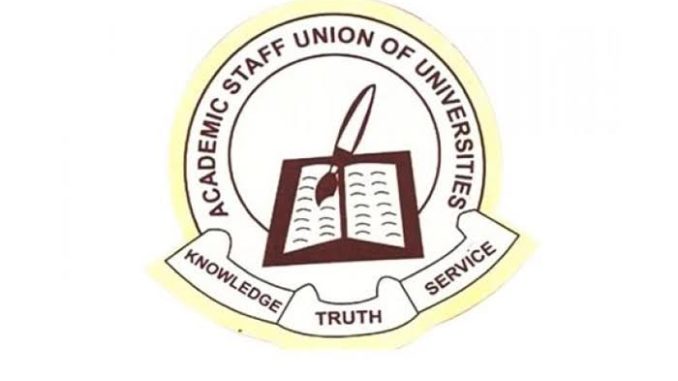 …Says it can't Guarantee Industrial Harmony after 13/1/2021
Barth Ndubuwah, Port Harcourt
The Academic Staff Union of  Universities (ASUU), University of Port Harcourt Branch has given 60 days ultimatum to the federal government of Nigeria to constitute the Governing Council of the university that will pave way for the appointment of a substantive Vice Chancellor(VC) for the University or lose the cooperation of its members after 13th January, 2021.
Announcing the ultimatum during a press briefing, the Chairman of ASUU,UNIPORT Chapter, Dr Austen Sado said allowing an acting VC beyond six months of his appointment is an invitation for anarchy in UNIPORT,which he said contravenes the Universities Act, 2003 and as such shall not be tolerated.
"For emphasis, the Academic Staff Union of Universities will no longer cooperate with an Acting Vice Chancellor beyond 13th January,2021," Sado warned.
He accused the federal government of instituting sole administration in UNIPORT by its failure to reconstitute governing council for the University, it dissolved since May,2020. This, he said qualifies the Acting VC as a sole administrator,with the Education Minister as his principal,thereby usurping the statutory function of the Governing Council.
The ASUU Chairman equally told journalists that the tenure of the current Registrar of the University will elapse on 31st December,2020 and with no Governing Council in place,it will only take a miracle for another one to be appointed.
Dr Sado also lamented the lingering strike by ASUU members across the nation and UNIPORT in particular, which he said was caused by Federal Government's fragrant breach of previous agreements with ASUU.
He described as paltry the sum of N20b given to the universities  by the federal government  for over 90 public universities with a population of about thirty thousand as grossly inadequate. The implication, Dr Sado said is that only N7,000  will  be budgeted for each student that are supposed to be leaders of tomorrow.
On the Earned Academic Allowances and Integrated Payroll and Personnel Information System (IPPIS), the ASUU Chairman said Government has not shown faithfulness in redeeming its promises.
He reiterated the postion of ASUU on IPPIS, which he said University Transparency and Accountability Solution (UTAS) as alternative has been presented, having been testrun by ASUU and found potent for the smooth operations of universities. He accused the federal government, through the Attorney General of the Federation (AGF) of withholding eight months salaries of ASUU members to compound the problem.
The ASUU Chairman advised the federal government to conclude the renegotiation of the 2009 agreement with ASUU, release a minimum of N110 billion for the revitalization of public universities,  among others as the panacea for ending the current ASUU strike in the country.