PIB has become an excuse in the oil & gas sector – Ex NAPE President
The past president of the Nigerian Association of Petroleum Explorationists (NAPE), Mr. Nosa Omorodion, in this interview with Ayobami Adedinni  and Diya Gbenga speaks on the nation's Oil & Gas sector, importance of government passage of the Petroleum Industry Bill (PIB) among other related issues in the sector. Excerpts
Can you give an overview of the oil and gas sector?
We are doing roughly about 2 million barrels per day ( mbpd) and we still have capacity to do more. Over the years, before the advent of oil in Nigeria, the Nigerian Economy was doing very well with an expectation that the economy will be better. The advent of Oil was accompanied by some form of complacency, it became easy money and all other essential sectors like agriculture, manufacturing suffered and as a result we are paying the consequences for the neglect of those sectors many years later. In a nutshell, as I do tell people no matter the alternatives the world still needs oil and we will need oil for a very long time. The fact that more productions are being made every day, more people are moving into the urban centre, technology is on a rise, there is an increase in demand for virtually everything, so you will know that oil has come to stay. The clothes you are wearing today are all made from petroleum products, the light is powered by gas and gas is hydro carbon. So for a very long time we would have to live with this over some wasted years of not adequately taking good care and managing our resources very well. Nevertheless, there is still enough time to try and see how we can manage properly what we have in order to move forward.
What are the challenges of the upstream sector?
The greatest challenges of the sector today is inadequate investment. There is lack of adequate investments, we have not match the expected growth by investing to have a commensurate development. It is open news about refineries, the story of the cashcall and fiscal  incentives for gas projects.. The problem till today is that projects have been stalled for lack of investment and non pursuance of the right policies.
Can you explain what you mean by right policies?
There is this cancerous word called Petroleum Industry Bill (PIB), the only thing that PIB has not been accused of doing is that we are unable to breathe because of PIB. If you ask anybody for anything, they will say PIB. Meanwhile before the advent of PIB, this sector was moving on very well.
So PIB has become a cancerous reason whereby nobody can do anything. It has become an umbrella where people can launch into for not doing what they ought to do. When I say the right policies have not been there what I mean is that the industry in the upstream sector; we have Department of Petroleum Resources (DPR) which is supposed to be the regulator. DPR till today has not been able to function at its optimum simply because for reasons I and the industry struggle with. DPR has not been allowed to run as an independent organization. Let DPR become a commission; let them be able to regulate the industry.
What do you think can be done to the issue of duplicity of functions among government regulatory agencies?
There is only one regulator in the oil and gas industry which is the DPR. DPR regulates the oil and gas industry. We have other agencies that have specific tasks in assignment. Nigerian Content Development and Monitoring Board (NCDMB) has responsibility over local content. DPR regulates the Oil and Gas sector. We have other government agencies that have specific task and assignment, there are all sort of permits to get from them. We also have a couple of environmental agencies where you will get some specific permits. But before you can operate in the oil and gas industry,  DPR is the only body you have to register with. DPR gives companies the license to operate in this industry. During your service, you have to renew your license every year, for you to be allowed to run business. If you are getting oil blocks, it is DPR that gives out the oil blocks. When you are presenting your work program for the year, it is DPR you will meet.
Recently, the national assembly put the benchmark at $45 per barrel, what is the significance of this?
Looking at the trend from the beginning of this year, there seems to be a little appreciation in the oil price. The effort largely led by the Secretary General of OPEC, in trying to get member-countries to agree to some form of cut so they can put some discipline into practice. What made the exercise unique is that for the first time it is not only OPEC countries that are affected. Non OPEC countries as well have been working hand in hand to ensure that the prices stabilize at some reasonable level, whether at $42 or $45 is still not significantly much different. For me, it is a realistic target but what we need to do on our own part is that we need to arrest the issue of unrest in the Niger Delta because the oil price is so sensitive anytime there is a little distortion anywhere it affects it. I don't think it is too ambitious, it is realistic.
Wll there be departure from what has been happening in the past whereby the government and militants will have a peace deal then we will hear of another vandalism?
 We have no other country than Nigeria, so it is in our best interest to resolve this issue. Recently, the Vice President led the consortium of negotiators  to try and strike a deal with the militants. It is a move that has been welcomed by the entire industry just before then we are beginning to see some form of normalcy returning to that sector. Recently, Vice President Yemi Osinbajo led the consortium of negotiators  to try and strike a deal with the militants. It is a move that has been welcomed by the entire industry.  Just before then we are beginning to see some form of normalcy returning to that sector although it may not be adequate as  expected. If you look at production in the last quarter you will see that production has gone up to where it was, only at December we were  producing below 1.9mbpd so that is remarkable. What we need to do is that whatever the issues are,  they are being addressed. We need to make it to 2.3mbpd and sustain it. We have the capacity to do that. What I found exciting was that in the last couple of months, it is government's commitment to boost production anchoring and using the state national oil company to increase its production. So, we have to hit a production of about 2.2million bpd, if we have to achieve a gas production of 1.5 billion cubic feet ( bcf), we have no choice but to address issues militating against production.
With low oil price, do you think it is a right time for more exploration?
Yes, it is the best time to do exploration. The price is low, the cost is also low. So, if you have easy money the best time to come in is that period because everything crashes including cost. By the time you are able to go to exploration, you make discoveries and before you get to production, things would have gone back to normal and price would have gone up. So, somebody coming in at that point to explore will pay the price of the day.  If you have money,  the best time to go into exploration are times like this.
As we are now, if we don't do anything, about 40 years to this time,  we will run out of Oil. This is because we have been producing at a rate that doesn't match our discovery or replenishment. It is like having a bucket of water and all you have been doing is to take water from the bucket without re filling the bucket, definitely the water will soon run dry.
A particular discussant at the nape conference said  in 15 years oil may disappear. What can you say to this?
What he is trying to say is that, oil may not be viable anymore in the sense that; 20 years ago in sub Saharan Africa Nigeria was the only main player and probably Angola and later Equitorial Guinea. Now, fast tracking to five or seven years ago Ghana has joined, fast forwarding to two three years later we are being made to know that discoveries are being made in Sierra Leone and search for hydro carbon has increased in Liberia. The multinationals are going to Togo and Benin Republic, huge discoveries of gas are being made in Mozambique, Kenya is opening up. What that means basically is that there will be a time if we don't get our policies right, our oil will not be attractive anymore. This is because the competition is more now and the big IOCs have just one big pocket and like every other persons they have their limits. So why will they continue to invest in your country if you cannot guarantee their safety and returns while you have your next door neighbouring countries willing to accept them. So, in the next 15 years our oil will become unattractive if we don't get our physical terms right.
Considering the percentage of 20% being refined currently, what do you think the government can do to improve the percentage?
 We have said this over and over again. First, there is this school of thought that there is a need to either commercialize or privatize. It has been proven that sectors and businesses that private sector can run always turn out better just like the communication system. So we need to privatize that sector or commercialize it. We have refineries whereby there have been stories on turn around maintenance, as it is currentlythey are not even enough to meet the needs of the country. That is why companies like Dangote, Niger Delta, Orient Petroleum that are coming out full blast need to be commended and encouraged. So, if we have to invest in refinery ensure there is an enabling environment.
FG committed to implementing CNG Keke policy – NOA
The Director-General of National Orientation Agency (NOA), Malam Lanre Isa-Onilu, on Friday restated the Federal Government's commitment to implementing Compressed Natural Gas (CNG) Keke (tricycle) policy.
Isa-Onilu, who said this on Friday at a news conference in Abuja, said that the policy was part of government's efforts to alleviate the current economic hardship facing the citizens.
Compressed Natural Gas (CNG) is a feasible gaseous fuel that is relatively very cheap, environmentally friendly, safe to handle and has abundant available energy.
The director-general added that the policy also geared towards cutting transportation cost, to ameliorate the suffering of citizens.
According to him, the CNG will offer opportunity to local farmers to move their crops at affordable cost from their farms to the market.
"CNG will reduce fuel dependency and scarcity within the country by a wide margin, as well as strengthen uniformity of national transit system.
"Government will deploy 10,000 CNG filling stations across the country, while private marketers are also in the process of adding CNG points to their business," NOA boss said.
According to him, the Federal Government is committed in providing Nigerians with affordable energy options. The use of CNG stands as a testament to this commitment.
"CNG offers cost savings for consumers, businesses, and government operations in ensuring that energy remains accessible to all.
"As part of our environmental stewardship, the adoption of CNG aligns with the government's goal to create a cleaner and healthier nation.
"By choosing CNG over traditional petrol, we reduce harmful emissions such as carbon dioxide (CO2) nitrogen oxides (NOx) and particulate matter, in contributing to improve air quality and smaller carbon footprint."
The director-general said that government recognised the importance of utilising domestic resources to enhance energy security, by the promotion of the use of CNG, sourced locally.
This, he added, would reduce dependence on imported petroleum products, as well as supporting national economic resilience.
He restated the agency's commitment in leveraging on the cost cutting benefits of this CNG Keke, to ensure that its community orientation mobilisation officers reach out to communities with government messages.
According to him, the agency has partnered with the Ecomead company to enlighten Nigerians on the Compressed Natural Gas(CNG) Keke tricycle policy.
Also speaking, Chief Executive Officer, Ecomead Company, Mr Kayode Zubaim, commended NOA for embarking on government's CNG campaign programme to ensure Nigerians were updated with the policy.
According to him, the provision of CNG is apt and will help to cushion the effect of fuel subsidy removal on Nigerians.
He added that the decision of President Bola Tinubu made Ecomead to wear a thinking cap, to contribute its quarter to the nation's development.
"After carrying out series of research, we are able to come up with a brand that will use both CNG and patrol.
"But the truth is that it is manufactured to use CNG with the capacity of five kilogramme that rider can manage for minimum of one week.
"CNG is environmental friendly and such will help to reduce Nigerians problems, especially those in the rural communities and communities transport system.
"With NOA partnering with us, we can get across to all part of the country in making sure Nigerians know about CNG Keke ," he said.
He added that the issue of transportation would drastically reduce with the intervention of CNG when Nigerians made use to the product .
Mr Shamrat Sharna, Regional Manager, Simba TVS, said CNG looked new to Nigeria, but the product has been used all over in India.
FCTA uncovers illegal refinery in Abuja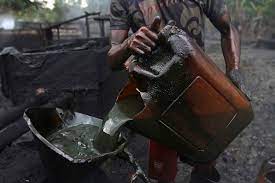 The Federal Capital Territory Administration (FCTA) has discovered the presence of an illegal oil refining warehouse in Mabushi, Abuja.
The Director, Department of Development Control, Mukhtar Galadima, who spoke to journalists said that the illegal refining site was uncovered during the continuation of the city cleaning exercise.
Galadima disclosed that about three to four plots of land designated for commercial purposes have been converted to an area where oil and diesel are being adulterated and circulated to other parts of the city.
He said that the city sanitation task force will look into the provision of the law and make necessary recommendations to the FCT Administration for further actions on the plots used for the activity.
He added that there was no arrest, but the items used in carrying out the illegal refining have been impounded.
"During the continuation of our city sanitation exercise in Mabushi opposite Mobile filling station on Ahmadu way, we discovered an illegal refining site where oil and diesel are being adulterated, we have done the needful by moving the items to Nigerian Security and Civil Defence Corps.
"From what we have seen so far, about three or four plots of land designated for commercial purposes have been converted to unapproved activities, which we believe the owners are fully aware of. There will be consequences. We are going to look at the provision of the law and make necessary recommendations to the FCT Administration," he said.
Gas production declines despite FG's N250bn intervention fund to 15 companies — Report
The Energy Institute report has revealed that the production of natural gas fell last year despite an N250 billion intervention fund provided to fifteen companies.
According to the industry report in partnership with KPMG, Nigeria's natural gas production dropped by 4 billion cubic feet meters between 2021 and 2022.
The country's gas production recorded at 39 billion cubic feet meters as of 2012 was on a steady growth and had grown to 49 billion cubic feet meters as of 2020, suddenly crashed 45 billion cubic meters in 2021, and then 40 billion cubic meters last year.
According to the report, "The development happened despite a N250 billion intervention fund by FG through the Central Bank of Nigeria, out of which N130 billion was doled out to 15 companies for the construction of Compressed Natural Gas conversion centres.
"The NGEP was introduced by the Federal Government to make the CNG the fuel of choice for transportation and the Liquefied Petroleum Gas, the fuel of choice for domestic cooking, captive power and small industrial complexes."
After the flag off of NGEP, the CBN also introduced the N250 billion intervention facility to help stimulate investment in the gas value chain as part of its efforts at stimulating finance to critical sectors of the economy.
The fifteen companies – Dangote Oil Refinery, Nipco Gas Ltd, Nipco Plc, Hyde Energy Ltd, Lee Engineering and Construction Company, Pinnacle Oil and Gas FZE, Transit Gas Ltd, Amalgamated Oil Company Nig Ltd, First Modular Gas Systems Ltd, NOVAGAS Ltd, Greenville Liquefied Natural Gas Company, AP LPG Limited, and MOB Integrated Services Limited, Delta State Government, and Gas Nexus Ltd that received a combined N130 billion, would on Thursday face the Senate Committee on gas chaired by Jarigbe Agom Jarigbe.
The summon letter by the Senate said, "The invited companies are required to appear with their progress reports, stating location or projects and the current status of the projects."