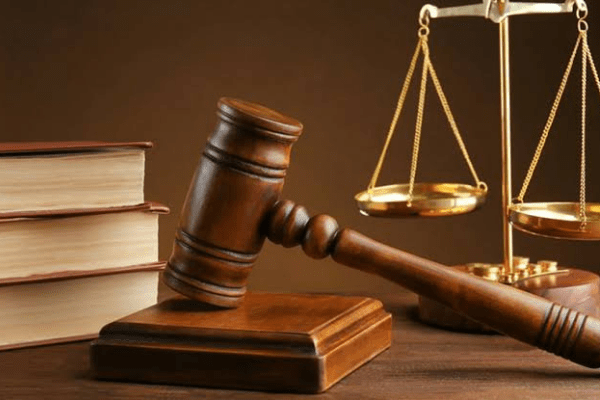 By Titus Atondu, Makurdi
Benue State High Court sitting in Makurdi on Friday, 25th October, 2020 fixed October 29, 2020 for definite  hearing of the N1 billion libel suit instituted by the governor of Benue State, Samuel Ortom against the former speaker of the Benue State House of Assembly, Mr Terkimbi Ikyange.
Justice Augustine Ityoyiman announced the date after hearing the submissions of counsel to Governor Ortom, Samuel Ehis Irabor who told the court that he was ready to proceed with the case, but Ikyange's lawyer, Sunday Akor who was absent in court had called him earlier and asked for another date, which he agreed to.
Godwin Buluku who held the brief of Sunday Akor confirmed what Ortom's counsel told the court.
Justice Ityoyiman adjourned the case and fixed October 29,2020 for definite hearing.
Ortom in the suit among other things, averred that Ikyange allegedly assassinated his character, damaged his reputation, reduced his standing before right thinking members of the society and in the process exposed him to hatred, contempt and ridicule when in a press interview held on Monday July 30, 2018, Ikyange accused Governor Ortom of deducting N50 million monthly from each of the 23 local government areaa of the state and the same amount amounted to the tune of N33 billion.
Among the reliefs sought by Governor Ortom is "a declaration by the court that the Defendant's allegations and publication of July 30, 2028 against him are false, mischievous, unsubstantiated, defamatory and libelous.
"An order directing the defendants to publish simultaneous retractions/apologies in respect of the said defamatory allegations  against him in the Sunday editions of 10 National Dailies circulating within Benue State as well as paid advertorials to the same effect on the prime time beats of the Nigerian Television Authority, Channels Tv, TVC News, African Independent Television, AIT, Radio Nigeria, Radio Benue and Harvest FM."
"An Order of Perpetual Injunction restraining the Defendant, either by himself and through his officers, privies, assigns, surrogates or agents whosoever called from further defaming the Plaintiff's character and reputation, cost of the suit and any other order(s) that the Court may deem fit to make in the circumstance."
The cost sought by the Governor in the suit includes "an Order of the Court awarding the sum of N1 billion as damages in his favour and against the Defendant  for the defamation  of  his character and reputation by the Defendant."