Visafone 800MHz Spectrum:  Mixed reactions trail take over by MTN Nigeria
…Transfer in order- ALTON, ATCON
By Bukola Olanrewaju
Mixed reactions continued to trail MTN Nigeria's acquisition of Visafone network after the telecommunication service provider anticipated control of about 800Megahertz (MHz) Spectrum.
It will be recalled that in January 2016, in order to improve its broadband services with the approval of Nigerian Communications Commission (NCC), MTN acquired 100 per cent stakes in Visafone, one of the frontrunners in the provision of telecommunication services deploying the Code Division Multiple Access technology, which is more in use in the United States than Europe.
Following this, last week MTN moved to get the transfer of the Visafone licence which also involved the transfer of its 800MHz.
However, this move was strongly opposed by two  telecommunication providers, 9Mobile and Airtel.
The duo raised the objection at a public hearing organized by the regulator, NCC, at its headquarters in Abuja.
The Acting Director, Regulatory & Corporate Affairs, 9mobile, Mrs. Seyi Osunsedo while speaking with Nigerian NewsDirect said the deal would clearly fail the competition test for spectrum ownership as MTN's current spectrum holdings in the 700MHz, 900MHz, 1800MHz, 2100MHz and 2600MHz spectrum bands are unmatched by any of its competitors who have considerably less.
"To put MTN's spectrum dominance in perspective, without Visafone's spectrum, MTN, by its own admission, already owns 38 per cent of all assigned spectrum in Nigeria leaving a little over 60 per cent for the 10 other operators in Nigeria.
"Therefore, allowing MTN add Visafone's 800MHz spectrum to its already outsized spectrum portfolio will seriously harm competition in the Nigerian telecommunications sector", she said.
Speaking on the implication, Osunsedo noted that with Visafone's 800MHz spectrum, MTN can launch 4G services across Nigeria without competition.
"While it may be argued that launching 4G  by MTN across Nigeria is good for the consumer, its ability to provide 4G services unchallenged will result in its monopoly of data services and the resultant monopolistic effects of high tariffs and poor quality.
"Nigeria's best option for the provision of 4G services to subscribers around the country in a cost-effective manner is through effective competition by all operators in the provision of services.
"We should also remember how tariffs have fallen from N50 per minute to less than N7 today because of competition", she noted.
In addition, Osunsedo said if the transfer is allowed, MTN will hold 10 times the amount of 4G spectrum held by its main rivals, 9mobile and Airtel.
According to her, MTN currently holds 40MHz of 4G spectrum compared to the 5MHz being used to offer 4G services by Airtel and EMTS.
"If Visafone's 800MHz assignment is transferred to MTN, it will hold 50MHz of 4G spectrum i.e. ten times of the spectrum available to 9mobile and Airtel, and all operators are expected to provide similar services – with this advantage other operators cannot compete fairly.
"No MTN competitor holds spectrum in this band, and MTN's access to the 800MHz spectrum band, without similar access being made available to other operators gives an unfair advantage.
"The telecom industry is already constricting with the smaller operators closing shop. A situation such as this will further exacerbate the situation where money invested cannot be recouped because of lack of access to required resources that position operators to compete and get a reasonable return on their investment", she explained to NewsDirect.
Osunsedo noted that in a very similar deal in South Africa, MTN successfully opposed the acquisition of a company on the grounds that acquisition of the spectrum by an already dominant operator will stifle competition.
Osunsedo also noted that the regulator in that case upheld MTN's objection seeing the likely effect it would have on the industry and that should be the case here.
The President of Association of Licensed Telecommunication Company of Nigeria, (ALTON), Mr. Gbenga Adebayo said the 800 800MHz spectrum transfer to MTN will help to develop broadband penetration if they will utilize the spectrum and do what they promise to do with the license when eventually allocated to them.
"We should recall that many years ago, Visafone acquired "telecoms', as well as ITN and bodex telecom. And those companies were harmonized together to form Visafone, and there were no such objections as it were about the transfer of spectrum at that time.
"Although we know the scope of use, the capability of the spectrum might not well be the same but the principle is the same.
"Once a telecommunication company has an acquisition, it is expected that the latter transfer the spectrum together with its assets and liabilities to the new owner. So this was what has been done in time past.
"It will contribute its own part to our broadband penetration, along with what stakeholders are doing it will help to achieve the targeted 30 per cent broadband penetration. We believe this also will assist in complementing the effort that is being made by other stakeholders in our broadband penetration.
"I think that the current objection to the transfer of Visafone spectrum to MTN Nigeria is part of the development of our industry. It is part of the effort that we are all making collectively towards having a more robust telecom sector.
"Even those who are raising their own concern about the transfer, I think it is also part of the development effort that we are making towards having a robust telecommunication sector in Nigeria", Adebayo said.
On his part, the President of Association of Telecommunication Companies of Nigeria  (ATCON),  Mr. Olusola Teniola explained that if we consider that NCC may go ahead to allow MTN the full acquisition of the assets, equity and liabilities of Visafone which also include their spectrum. We have to understand that the playing field of this telecommunication industry is really to the success of broadband penetration and adoption in this country.
"In other words, If we have a situation where spectrum is being restricted to other players that require a level playing field to be able to compete, then they might run the risk of no more investment coming in from potential players because they lack the resources to be able to roll out broadband that is required to compete against operators like MTN who has 2.6GHz, 700MHx and has been given 800MHz.
"So, that will be unfair, because there has not been liability for other players to also being given opportunity to acquire the same spectrum.
"What we as an industry are actually pushing for; we plead to NCC that they have to ensure that other players are given the same opportunity to acquire the same spectrum that they believe will give them a favourable advantage or ability to compete on a fair basis with the number of players in the market.
"We are saying in effect is that there is a 700MHz slot available that are unused, there is also 2.6GHz available and there are other data related spectrum that NCC should make available to those players that have the credibility to not  only purchase but also to rollout much needed broadband services on the spectrum that they acquired.
"By law the spectrum has to go MTN.
"But there is a concern, and it is the concern raised by the other operators", Teniola noted.
"This is a priority because we really need to have a situation that it is not just one player that is rolling out broadband to all nooks and crannies of Nigeria.
"We need competition so that the consumer can have an equal choice.
"Competition is very paramount.
"Competition is required for the next phase of the evolution of this industry; which is data. We definitely need not only the right spectrum, but need regulator to ensure that there is a level playing field going forward.
"So the way to solve this, is for the regulator, NCC, to give more resources available, so that there will not be any conflict or disagreement against the players.
"When you have collaboration and unison of players in the telecom market, you have a stronger industry and opportunity for the industry to contribute more to the GDP and the growth of the economy", Teniola said.
The Nigerian Commu-nications Commission said they are yet to take a decision on the issue, but they will ensure to address everything that need to be addressed.
Spotify: Davido's Timeless ranks most streamed album in sub-Saharan Africa
Famous Nigerian Afrobeat singer, Davido's latest song 'Timeless' has been ranked as the most streamed album in sub-Saharan Africa.
The Spotify Wrapped 2023 is the annual data-led review of how people listened to music and podcasts on the platform.
The singer's album, 'Timeless' was recently nominated for Best Global Album at the 2024 Grammy Nominations.
On the list of Spotify's most streamed albums in sub-Saharan Africa in 2023, Davido's 'Timeless' finished top ahead of Asake's 'Work of Art' and Burna Boy's 'I Told Them'.
Skepta dismisses comparison between his neck tattoo, Wizkid's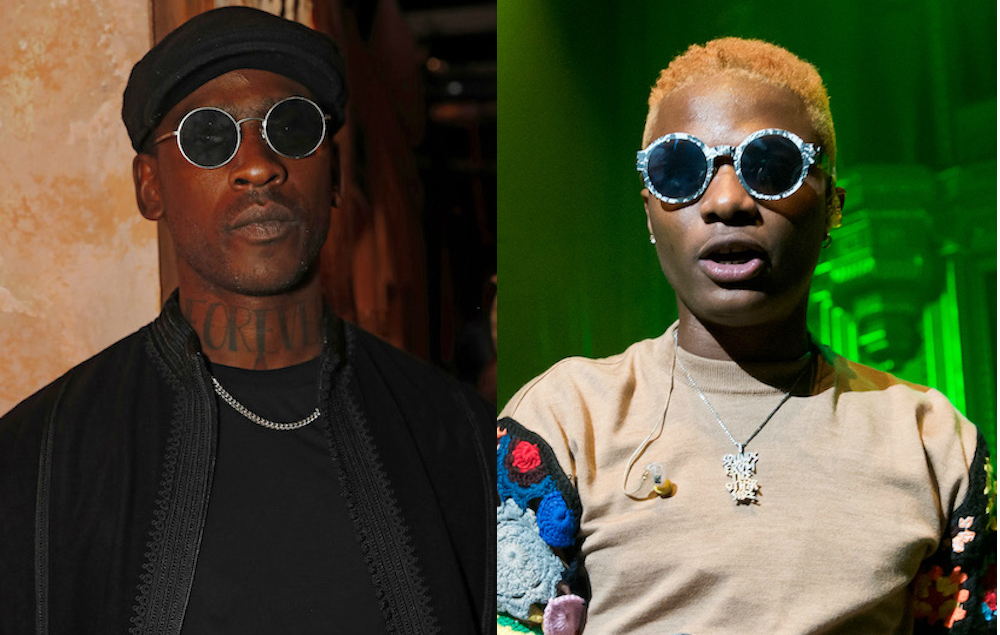 British-Nigerian rapper, Skepta has rebuked a social media user who tried to mock Grammy-winning singer, Wizkid's new neck tattoo by comparing it with his own.
Wizkid recently debuted his new neck tattoo on social media and has been trending on the internet.
An X user with the handle @yemioftheworld shared photos of Skepta and Wizkid flaunting their neck tattoos with a caption that taunts the Starboy singer.
Reacting, Skepta quoted the tweet, berating the poster for comparing their tattoos. He said the post obviously made the post out of boredom.
"So because I get tattoo for neck, nobody else should catch am? You people should gerrout forreal, you are bored and it's showing,"
he wrote.
ICPC, Police clear D'banj of fraud, rape allegations
Nigerian singer, Dapo Oyebanjo popularly known as D'banj, has been cleared of rape and fraud allegations by the Nigeria Police Force and the Independent Corrupt Practices and Other Related Offences Commission (ICPC), respectively.
The police and the anti-graft agency gave the 'Fall-In-Love' crooner a clean slate in separate clearance reports upon completion of investigations with incontrovertible outcomes on the innocence of the Kokomaster singer.
In an affidavit deposed by Toheeb Lawal of Abuja-based law firm, Law Corridor, before the District Court of Abuja, wherein the reports of the Nigeria Police Investigation and Clearance from the anti-corruption agency were exhibited and marked exhibit A and B, the legal practitioner averred that the police and ICPC cleared the singer of rape and fraud allegations.
In 2020, the singer was accused of rape and the Inspector General of Police ordered an investigation into the allegation.
In a report dated November 14, 2023, with case number CR:3000/X/FHQ/ABJ/SEB/T.1/VOL 18/284, and signed by ACP YY Abubakar of the Special Enquiry Bureau at the Force Criminal Investigations Department at the Force Headquarters in Abuja, the police said the matter was investigated but there was no evidence to substantiate the claim.
"The allegation was investigated," the report partly read. "The complainant, witnesses and suspects made their statements. The investigation was expanded across board but there was no prima-facie evidence, adduced facts or corroborative evidence to establish the offence of rape and sexual assault against the singer."
Also, sometime in late 2022, D'banj was wrongly accused of diversion of funds associated with the N-Power Programme of the Federal Government.
However, in a separate outcome after its investigation, the ICPC said that D'banj was not guilty of any fraud allegation.
In response to an inquiry, the Commission cleared D'banj of any infraction on the matter.
The clarification was dated November 29, 2023, with document number ICPC/OPS/SDD/SPT.LG/31/23.
"The commission investigated issues of fraud in the administration of the N-POWER Scheme where Mr Daniel Oladapo Oyebanjo's name came up. However, there was no prima facie case of fraud against hm.
"Kindly be advised that Mr Daniel Oladapo Oyebanjo is not under investigation with the Commission for any fraud-related offence," the statement partly read.
The lawyer, in his deposition filed before the Chief District Court of the Federal Capital Territory at Wuse Zone 2, Abuja, also averred that the singer was never a government official and never had any access to government funds and that the N-power campaign he supported was free and was never paid a penny by anyone or the government.